Study Tours - Tuesday 24th January 2017
This year, two study tours are offered, in partnership with AILE and AAMF, on Tuesday 24th January 2017 afternoon - the day before the exhibition opens:
Each tour offers a visit on an agricultural unit operated by a member of the AAMF association (one produces biomethane, while the other cogenerates), and tour 1 also offers a visit on a waster water treatment plant. This is to celebrate the joint organisation of Biogaz Europe with the Carrefour de l'Eau.
Experts from AILE association will accompagny you on both circuits. A shuttle will leave from the center of Rennes (esplanade Charles de Gaulle) early afternoon on the 24th January. Participation is free!
Tour 1 - Liffré - co-organised by Biogaz Vallée®
GAEC du Champ-Fleury
The GAEC du Champ-Fleury has five associate members and does mixed crop milk stock farming. The farm currently has 160 milk cows and features a fattening house.
The AD unit is in operation since summer 2015. It is supplied by 11 000 tonnes of animal slurry, traditionnal crop residues, Intermediate Energy Crops, green waste and residues from local agro-industries. Biogas is upgraded and injected in the gas grid, a first in Brittany. Since the beginning of 2016, the injected volume stands at 70 Nm3 CH4/h.
Waste water treatment plant at Liffré
More information soon available on this visit.
Registration is now closed for this tour.
Tour 2 - Noyal-sur-Vilaine
GAEC des frères Lamoureux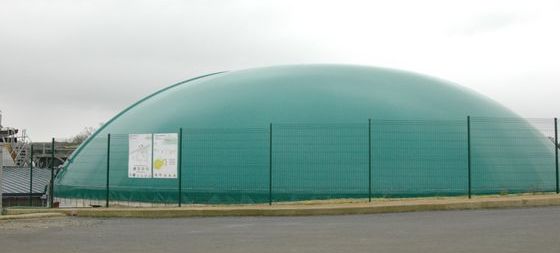 The AD unit was started in 2012, and initially fed a 130kW cogeneration engine.
Early 2015, a company was created to collect biowaste around Rennes (SARL CMV), which created a job and developped a new activity.
In June 2016, the unit went from 130kW to 250kW, supplied by 3200t of external waste from agroindustries and restaurants, 1200t of intermediary and main crops, and 3300t of pig and cow manure, including 2000t within a "digestate against manure" contract with a nearby farm.
Early 2017, a wood log drier will be installed to use the excess heat of the new cogeneration.
Registration is now closed for this tour.